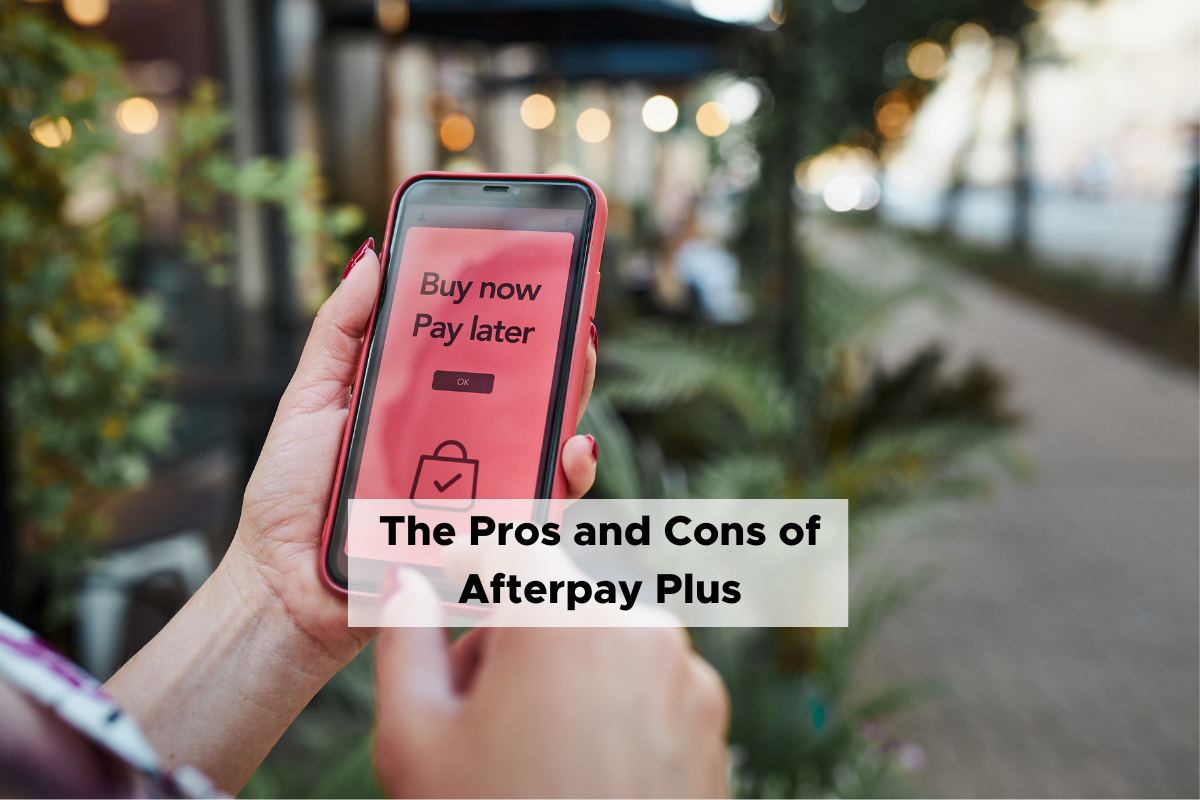 Buy now, pay later (BNPL) lender Afterpay has soft-launched a new monthly subscription service called Afterpay Plus. It allows customers to split up their Google Pay, Apple Pay, or Samsung Pay purchases into four instalments — even for non-Afterpay affiliated online and in-store retailers.

Financial Counselling Australia (FCA) chief executive Fiona Guthrie has criticised the new service, warning that the increased ease with which people can access short-term loans could lead to more people making impulse purchases and sinking further into debt.

Like any financial service that lets you break up a purchase into smaller instalments, there are pros and cons to using Afterpay Plus and similar lenders, which we will dive into in this article. But first, let's cover the basics of Afterpay Plus and how it works.

Key takeaways
Afterpay Plus is a new monthly subscription service by the BNPL lender, Afterpay.
Customers who use Afterpay Plus can split up their mobile payments into four instalments with the touch of a card or a smartphone.
Critics fear that Afterpay Plus and similar services will make it easier, than what it already is, to be approved for short-term loans and sink further into debt.
Just like any financial service, doing your research and creating a budget is a smart way to avoid falling into debt.
What is Afterpay Plus?
A new monthly subscription service by the BNPL lender, Afterpay. For $9.99 a month, customers receive a new Afterpay Plus digital card, replacing their original Afterpay digital card. With this new card, customers can link Afterpay Plus to their Google Pay, Apple Pay, or Samsung Pay account, and then use their linked mobile payment platform to split up almost any purchase into four instalments.

What does this all mean? Afterpay Plus extends the benefits of the original Afterpay to non-Afterpay affiliated retailers. It enables customers to make instalment-based payments almost anywhere. And just like the original Afterpay, there is no interest and late fees are capped.

Afterpay Plus is still currently available on an 'invitation-only' basis. But the company plans to extend the service to the public later this year.
What are the pros of Afterpay Plus?
Services like Afterpay allow customers to pay only a fraction of the total cost of a purchase, and then pay off the remaining amount later. The introduction of Afterpay Plus is a turning point for the BNPL sector, as it enables customers to use Afterpay more often and in more places than ever before. Here are the positives of this new initiative.

Low barrier to entry
For existing Afterpay customers, who are eligible for the new Afterpay Plus service, the barrier to entry is low. All they must do is open the app, find the in-store tab in the app to upgrade, and join for a monthly fee of $9.99. The date with which a customer joins Afterpay Plus will be their subscription renewal date.

Once sign up is complete, the existing Afterpay card will automatically upgrade to the new Afterpay Plus card. Also, since existing customers have already provided their personal and contact details, they do not have to jump through the same hoops as before to upgrade.

Can be used almost anywhere
Prior to the advent of Afterpay Plus, customers who wanted to make instalment-based payments could only do so through Afterpay-affiliated vendors. Not so anymore.

Afterpay Plus enables customers to split up almost any purchase they make through Google Pay, Apple Pay, or Samsung Pay into four instalments, granted the vendor accepts mobile payments. Of course, the key phrase here is 'almost anywhere,' as restrictions may apply to certain merchants, products, goods, and services.

No interest and capped late fees
Just like the original Afterpay, Afterpay Plus customers enjoy no interest and capped late fees. This means they pay no interest on Afterpay Plus purchases, and any late fees are capped in one of two ways: at 25% of the purchase cost or at $68, whichever is the lower of the two. That said, customers must stick to their repayment schedules, that is if they want to avoid paying late fees.
What are the cons of Afterpay Plus?
The introduction of Afterpay Plus has raised alarm bells, as critics fear the new service could cause vulnerable people to spiral further into debt.

These criticisms are consistent with those of the original Afterpay service and the proliferation of BNPL lenders worldwide. In early 2022, Consumers International, a membership organisation for global consumer groups (of which CHOICE and the FCA are members), made a demand for better regulation of the BNPL sector.

If you are struggling with debt because of using BNPL services, contact Debt Fix today. We can help you consolidate your debts into one weekly payment, so you never feel overwhelmed. We can even help lower your payments by reducing, or even eliminating, the amount of interest or associated fees that you owe.

Without further ado, here are three reasons to be wary of using Afterpay Plus and similar services.

Limited credit checks
According to Finder, the number of Australians paying BNPL late fees has been steadily rising since 2020. During the first year of the pandemic, 5% of Australians had paid a BNPL late fee in the last 12 months; as of January 2023, 10% of Australians had paid a BNPL late fee in the last 12 months.

Consumer Action Law Centre chief executive, Stephanie Tonkin, has also said that the National Debt Helpline is hearing more from people who are using BNPL to pay for essentials like food, utilities, and telecommunication services.

One of the main reasons why BNPL debt is on the rise is because services like Afterpay and Afterpay Plus do not evaluate a customer's ability to repay what they owe. They merely apply spending limits, which gradually increase over time as customers meet their debt repayment obligations. This is in stark contrast to licensed credit providers, who are legally required to perform affordability tests.

The Albanese Government is also currently in the process of regulating the BNPL sector. Their aim is to close the regulatory gap by enforcing stronger sector self-regulation, introducing a new "affordability test" requirements, and partly bringing the BNPL sector into the Credit Act.

Potential impact on credit score
While using a BNPL service will not impact your credit score directly, there are ways in which it could indirectly affect your credit score. If you rack up multiple BNPL debts, then it could affect your ability to repay your other debts, whether they be utility bills, rent, mortgage repayments, or other personal or credit card loans.

This could lead to a snowball effect, where the sole act of using a BNPL service does not affect your credit score (at least, not straight away), but it does later down the line when you factor in your other existing debts. For this reason, it is vital that you manage your money responsibly, and only use a BNPL service if you know that you can pay back what you owe.

Inflexible repayment plan
Unlike credit card or personal loan repayments, BNPL lenders such as Afterpay and Afterpay Plus do not let you pick when you pay. That means you must agree to whatever repayment plan that Afterpay Plus gives you.

So, if you do not have the necessary funds in your account on the right day, then you risk missing a payment and paying a late fee. This limitation can make it hard to create a budget that suits your unique financial circumstances, and it may increase your risk of sinking further into debt.
Tips on how to avoid BNPL debt
Afterpay Plus makes it easier than ever for customers to sign up for short-term loans and fall into debt while paying a monthly subscription model as well. Here are a few tips on how to use Afterpay Plus and other BNPL services responsibly:

Create a budget — Make sure that you can comfortably repay what you owe in a timely manner. To do this, create a budget. Add up your average monthly income and subtract it by your average monthly expenses. And be sure to factor in your BNPL debt repayments, as well. This will give you a good idea as to whether you can afford to use a BNPL service.

Stick to one BNPL purchase at a time — Try to avoid making another BNPL purchase until you pay off the previous one. This will make it easier for you to stay on top of your BNPL debt repayment obligations. And it will reduce the risk of interfering with your other debt repayments as well.

Avoid BNPL services altogether — Ask yourself: do you need a BNPL service to get what you want or need? For luxury items, consider waiting until you can afford the total upfront cost. For necessities, consider other options like no-interest personal loans. Or follow the above step and limit your essential BNPL purchases to one at a time.

Talk to Debt Fix today
As the BNPL sector continues to mature, new products like Afterpay Plus — which make it easier to be approved for short-term loans at more retailers — will change how we interact with and use money. While these services are convenient and easy to use, they also increase the risk of vulnerable people who need debt help.

If you are struggling with debt and need assistance, contact Debt Fix. We have a range of solutions to help you save money, get creditors off your back, and put you back in control of your finances. Applying takes only 30 seconds, and your application is confidential and will not affect your credit rating. Get started today.