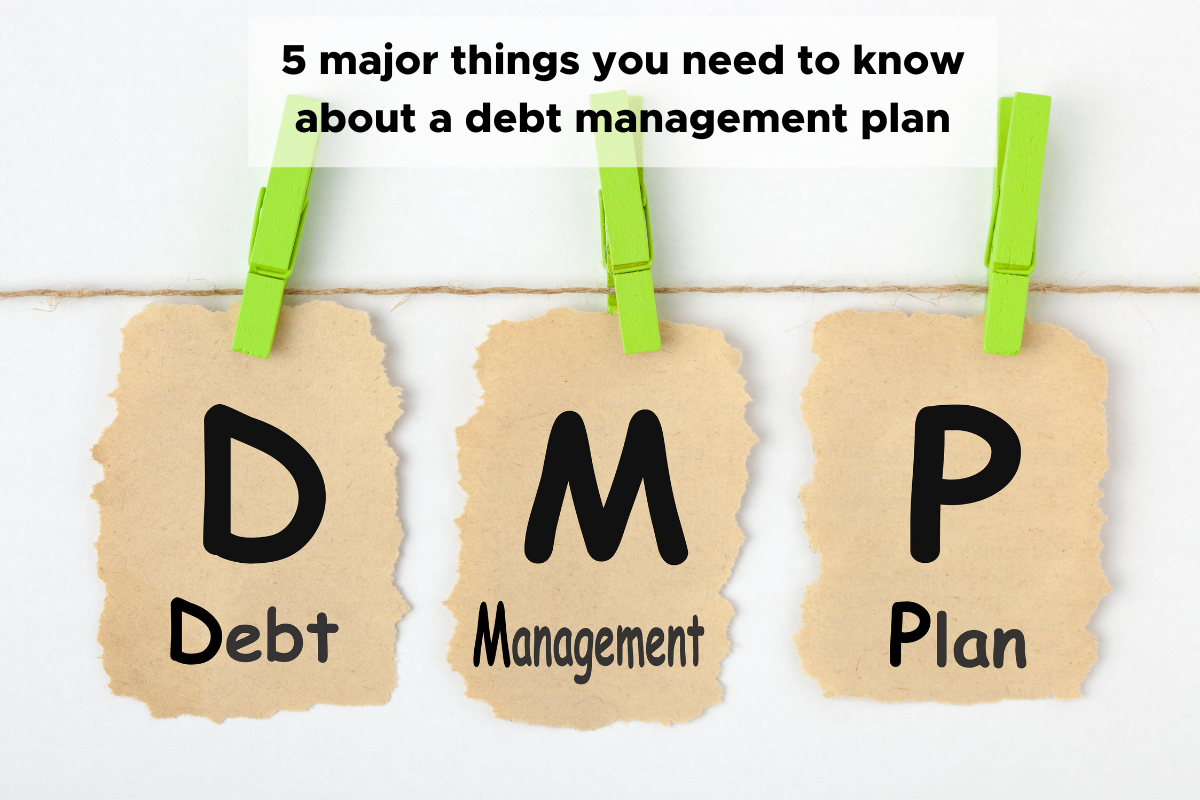 If you're struggling to keep up with your repayments and you are finding it difficult to pay for your living expenses, a debt management plan might be something you consider. A debt management plan involves a firm arranging a plan for you that you can stick to. A debt management firm can help you take control of your debt by organising one payment you will need to pay. Here are 5 things you need to know about a debt management plan.
1. Debt Management is not debt consolidation
There is a difference between debt management plan and debt consolidation. Essentially, debt consolidation involves taking out a loan that simplifies your debt by combining multiple debts into one repayment. This could be helpful for those that want to lower their monthly repayments or avoid higher interest rates. A Debt Management Plan may be for you if your credit score does not qualify you for the debt consolidation loan you want and if you have more debt than you can consolidate.
A Debt Management Plan is a service that bridges the gap between borrowers and lenders. This arrangement replaces your current repayment obligations by setting up a new structure that suits your current circumstances. For many, a DMP is preferrable to other alternatives such as declaring bankruptcy. You should consult a debt management firm that can outline all your potential avenues before deciding on one that is best for your unique situation.
2. You'll have an end date with a DMP
Debt management plans will often have an agreed term with your creditor. As such, you will have an agreed end date for your payments. Your debt management firm will work with you to create a budget that will allow you to afford your living expenses. For many, having an end date to their debt is financially empowering.
3. You won't need to negotiate with creditors
A debt management firm will take on negotiations to the companies that you owe. An experienced financial advisor should be able to settle on a sustainable plan that is personalised to your needs and essentials.
Negotiating with creditors on your behalf will save you much needed time and frustration. Your team will negotiate separate agreements and field phone calls. With their unending support, they'll provide you a flexible service that you can choose to change at any time.
4. Impact on your credit
For those considering a debt management plan, their credit may be in decline. A debt management plan can affect your credit score. Once we work with you to create a budget that suits your needs and you begin to manage your own repayments, your score may gradually improve. However, this will only occur if you are able to get your debts under control.
If you are concerned about the effects of a DMP to your credit score, you will need to contact our team for additional information.
5. Debt Management is not for everyone
A debt management plan is not a quick-fix solution, instead it is a long-term service with the aim of improving your financial position for your life beyond debt. It is essential that you discuss all your options with a trusted financial advisor who can outline all the options that are available to you. This way you'll be able to make an informed decision about your finances.
At Debt Fix we will take the time to understand your personal circumstances. Our team will go through your income and expenses and find a tailored management plan for you.
Debt Fix is here to help with your debt management plan questions
We understand that there is not one solution to becoming debt free. A debt management plan requires you to stick to your payments and budget well. The good news is that you don't have to go through your financial journey alone. At Debt Fix we will deal with your creditors so you don't have to and create a budget that you can stick to, giving you peace of mind. We believe that each situation is different, and you need all the facts to make an informed decision about your way forward. We're here to help you figure out all your options and find a way to financial security. Chat to us today to see how we might be able to help.