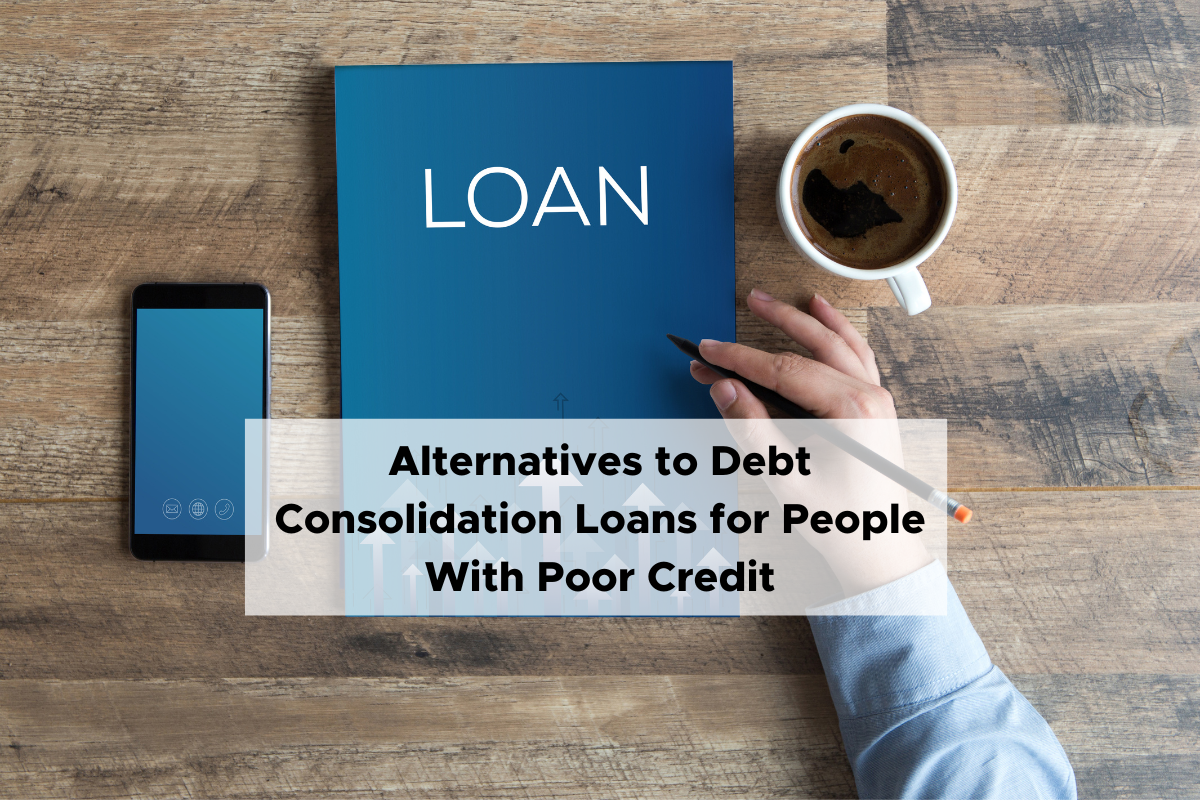 Juggling multiple debts is hard. It is even harder for those with poor credit, as it can be more difficult to be approved for a debt consolidation loan.

A debt consolidation loan involves taking out a bad credit personal loan, using the extra funds to repay your debts, and gradually paying off the new loan in single monthly instalments over a set term. The benefits of a debt consolidation loan include the potential to pay lower interest, fees, and monthly instalments over a longer period.

The good news is, even if you have been rejected for a debt consolidation loan, or the terms have been too unfavourable to accept, there are alternatives for people with poor credit. Here are just a few.
Key Takeaways
People with poor credit may struggle to be approved for a debt consolidation loan, or they may only be eligible for loans with unfavourable terms such as high interest rates or fees.
Fortunately, there are many alternatives to debt consolidation loans, such as seeking advice from credit counsellors or negotiating directly with creditors.
Although the chance of success is lower than other debt relief measures, pursuing a debt settlement could reduce the total amount of debt that you owe to your debtors, albeit at the risk of impacting your credit score.
Seek Credit Counselling
Also known as financial counselling, credit counselling is a free, confidential, and independent service that does not impact your credit score. It involves speaking to a qualified financial counsellor who can help review your finances, explore your options, and establish a debt relief strategy that works for you.

After assessing your finances, a financial counsellor can help you: prioritise the right debts, create a money plan, explain the pros and cons of different debt relief options, and advocate for as well as negotiate on your behalf with creditors. They can also report debt collector misconduct on your behalf.
Keep in mind, there are limits to what financial counsellors can do for you. They cannot lend money, file tax returns, provide debt consolidation services, or provide financial investment advice. And most importantly, they are a free service so you should never pay any upfront or ongoing fees.
Negotiate With Creditors
If you have debts that you cannot afford to repay, try to negotiate directly with your creditors. Most creditors will negotiate if you can prove that the current terms are not viable to you.

To do this, you may need to provide evidence of financial hardship by supplying payslips, utility bills, bank statements, and more. You may then need to propose an alternate debt repayment plan, and negotiate the terms of that plan, until you are both satisfied with the new plan.

There are many ways to change your debt repayment plan to better suit your needs. For instance, you can ask to pay lower interest and fees, ask to extend the debt repayment period – lowering your monthly instalments, giving you more time to repay – and even ask to lower the total debt amount.

There are no guarantees when negotiating with creditors. Some may refuse to cooperate; some may be less flexible than others. By being honest about your situation and negotiating on fair terms, your odds of reaching an affordable and sustainable agreement will improve.
Consider a Debt Management Plan
If you have multiple debts and feel uncomfortable negotiating with creditors yourself, a debt management plan company can help.

A debt management plan company can speak to banks, debt collectors, and creditors on your behalf. Their goal is to discuss your situation and negotiate more favourable terms. They may be able to lower your monthly instalments, waive fees and interest, and explore other debt relief options to help you take control of your finances.

Aside from taking care of corresponding and negotiating for you, a debt management plan company can also stop debt collectors and creditors from chasing you, meaning no more constant phone calls, emails, and letters of demand. Debt management plan companies are also highly skilled negotiators, so your creditors may be more cooperative than if you tried negotiating yourself.

One downside to a debt management plan is the potential impact on your credit score, which can be avoided by negotiating directly with creditors or speaking to a credit counsellor. But if those two options are out of reach, then a debt management plan is still an effective way to get back on track.
Debt Settlement
A debt settlement involves you negotiating with your creditors and having them agree to reduce the total debt amount you owe. This typically means making an upfront payment of what you can afford now, or soon, to your creditors, who then forgive the remaining total debt amount.

Debt settlements are an effective way to get rid of your debts for good, and without seeking credit counselling or agreeing to a debt management plan, which can both result in spending months and even years gradually paying off multiple debts.

Another advantage is potentially paying less than what you originally owed, by reducing your total debt amount and circumventing payment of ongoing interest, fees, and charges. Depending on your negotiating skills, and the willingness of your creditors, you may be able to reduce your total debt amount by 25 percent or more.

Unfortunately, a debt settlement may negatively impact your credit score, and not every creditor will agree to one. You also need a significant amount of upfront cash to settle your debts.
Life After Poor Credit
Even if you have multiple debts and low credit, debt relief is still possible. You can seek advice and support from qualified credit counsellors, negotiate directly with creditors, or agree to a debt management plan or debt settlement.

Each option has their pros and cons, and there is no 'one size fits all' solution. For this reason, we encourage you to research, get practical advice from trusted financial experts, and make informed decisions that benefit you in the long term.

To learn more about Debt Fix's range of alternatives to debt consolidation loans for people with poor credit, get started.